Drink Local. Eat Local. Choose 100% REAL Dairy
The Farm to Table Values You're Looking For
The farm-to-table cycle begins on local dairy farms where fresh milk is picked up daily and delivered to our farmer-owned plants. From there, products are packaged and distributed throughout our communities. Prairie Farms has represented American agriculture since 1938. We are a dairy cooperative - meaning we are owned and operated by 600+ farm families. All selflessly take on the tremendous responsibility of feeding America, being on the job 24/7, 365 days a year.
Our Farmers are Your Neighbors
From our farm families to the team members who operate our manufacturing facilities and deliver our products, we all have one thing in common... A passion for doing our part to help feed American families.
America's Most Awarded Cottage Cheese
Our award-winning cottage cheese is blended to perfection with milk and cream from our family-owned farms.
Packed with 12 grams of protein in each serving, it's an easy ingredient to add richness and depth to recipes, both sweet and savory.
2022 World Dairy Expo Reigning Champion
In a competition featuring more than 1,560 entries, Prairie Farms won 44 total awards:
1 Grand Champion
13 First Place
11 Second Place
19 Third Place
Recipes Featuring Cottage Cheese
Sweet Cottage Cheese Toast Dress up your toast with Prairie Farms Cottage Cheese and your favorite fruit ...
25 Weekly Winners Receive $25 Dairy Prize Packages
Enter Daily For a Chance to Win our Award Winning Dairy Products
* Eligibility: Open only to legal residents of Illinois, Indiana, Eastern Iowa, Eastern Arkansas, Kentucky, Michigan, Minnesota, Mississippi, Central/Eastern Missouri, South Dakota, Western Ohio, Tennessee and Wisconsin.
Prize winners will be notified by email and/or mail. No purchase necessary. Product availability varies by retailer. PRAIRIE FARMS AND NORTH STAR PRODUCTS MAY NOT BE AVAILABLE IN ALL AREAS, NO PRIZE SUBSTITUTIONS ARE PERMITTED.
Dairy Coupons are Not Permitted in the state of Louisiana. Valid at participating retailers. Contest may end at any time. Void where prohibited. See complete rules and prize details.
Generational Dairy Farms
An astounding fact is that farmers make up just 1.3% of the employed U.S. population which means most people are three to five generations removed from a farm.
Educational Farm Tours
From preschoolers to college students to parents and grandparents, our dairy farmers address common topics like animal welfare, antibiotics, milk production, and sustainability.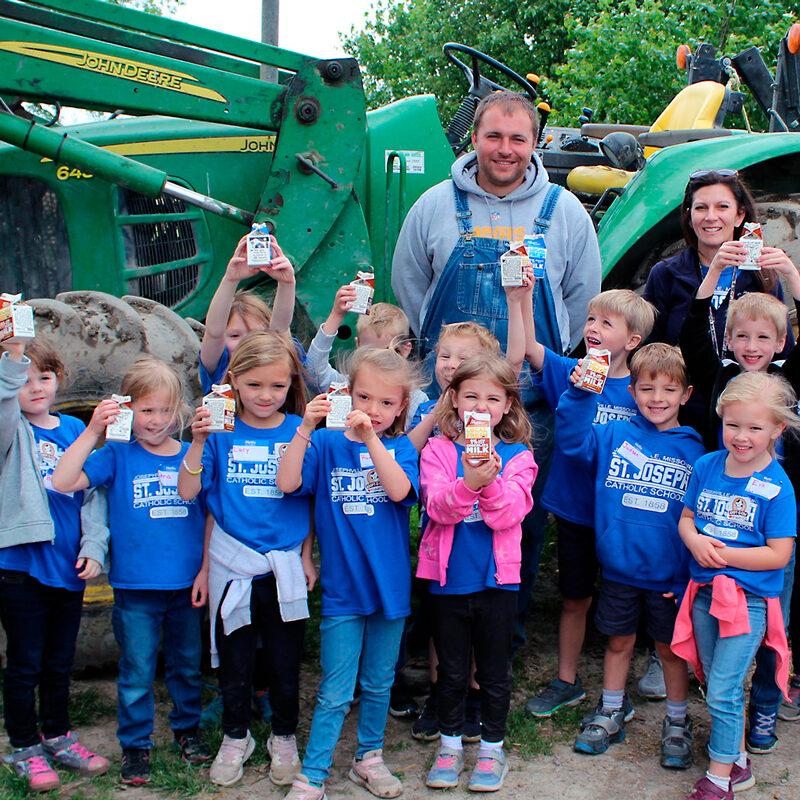 Inspiring Future Dairy Farmers
Our farm families are dedicated to their local communities. They inspire future dairy farmers every day by sharing their story, and how important it is to have local food sources.
We Love Our Cows
Our farm families love their cows and treat them like part of the family. Ask any of our farmers who eats breakfast first on the farm, and they'll all say "their girls" do. 
North, South, East and West. We've Got the Midwest Covered.
Choose 100% Real Dairy And Accept No Substitutes
NO Artificial Growth Hormones
Owned by 600+ Farm Families
Committed to Animal Care
Committed to Sustainability
Committed to Freshness
Committed to Quality Assurance -
Strict Control - No Antibiotics*


* Ensures milk shipped to stores is free of antibiotics
Not Only Do Our Cows Get an Early Start, We Do Too.
Each morning they load up and hit the streets, making hundreds of stops, delivering Prairie Farms products.
Take a look around and you'll find our milk and dairy products nearly everywhere - grocery stores, convenience stores, drug stores, schools, restaurants, hospitals, and other food service outlets.