Farmer Owned. Locally Produced. Since 1938.
We are a farmer-owned cooperative. This means we are owned and operated by over 600 farm families who are critical members of society. They have selflessly taken on the tremendous task of producing nutritious, high-quality milk for a growing population, which requires being on the job 24/7, 365 days a year.
We have represented American agriculture since our founding in 1938. Many of our dairy farms are operated by several generations of family members with roots dating back to the 1800s. On average, each farm milks around 120 cows and everyone pitches in to keep them happy and healthy - which means around-the-clock care!
To Produce Dairy Products of the Highest Quality

To Conduct our Business with Professional Integrity

To Exceed the Expectations of our Customers and Consumers

To Support our Communities in a Positive, Sustainable Manner

To Deliver Exceptional Patronage to our Network of Farm Families

To Simply "Do Right" for our Farm Families, Employees and Communities
Many of us are proud to be multi-generation dairy farms, established and maintained by our parents, grandparents, even great grandparents. You'll find no less than two or three generations pitching in every day, milking cows, running equipment such as tractors and feed-mixers, caring for new calves, or keeping the whole team fed with homemade meals.
Excellent cow care is an expectation. The Prairie Farms Cow Care Program details guidelines that our farmers follow for every calf and cow on their farm. We set the highest standards for care of our cows when it comes to health, facilities and housing, nutrition, equipment and milking procedures. Our farms are evaluated at least once every three years and provided feedback on how they're doing by veterinarians, extension educators, university personnel and our field staff members. The evaluation provides our farmers with the information they need to develop action plans for continuous improvement. The integrity of the program is ensured through third-party verification, which is completed by outside experts.
As dairy farmers, we must adhere to strict food safety regulations and maintain clean, safe facilities. Equipment is washed and sanitized to meet and exceed safety standards after each milking. Our dedication to happy cows means we will work closely with our veterinarian to use medical intervention when absolutely necessary to improve the health and life of the animal. Should we need to use medical invention, we must follow strict withdraw periods to ensure all antibiotics are out of the cows' system prior to using her milk. Our milk is always tested prior to leaving the farm to ensure a quality, safe product ends up in your home. Since 2008, Prairie Farms has adhered to a no-added hormones policy.
Just like your favorite device, on-farm technology is constantly changing and evolving. By using technology on our farms, we are able to work more efficiently, safely, and most importantly, keep our cows at a maximum comfort level. Some farmers may use robots to milk, allowing cows to be milked whenever they are ready. Other farmers may track their animal's activity and health levels with the use of fitness trackers. Every farm is a little bit different, but we all are working to achieve the same goals: quality milk and happy cows.
We are the farmers in your neighborhood, supplying the fresh milk to grocery stores that we, too, shop at. Our communities are important to us, with many of us serving on local school, church or municipality boards and committees. And because this is our home too, we care deeply about the land and water resources, and are dedicated to preserving our natural resources to our best extent.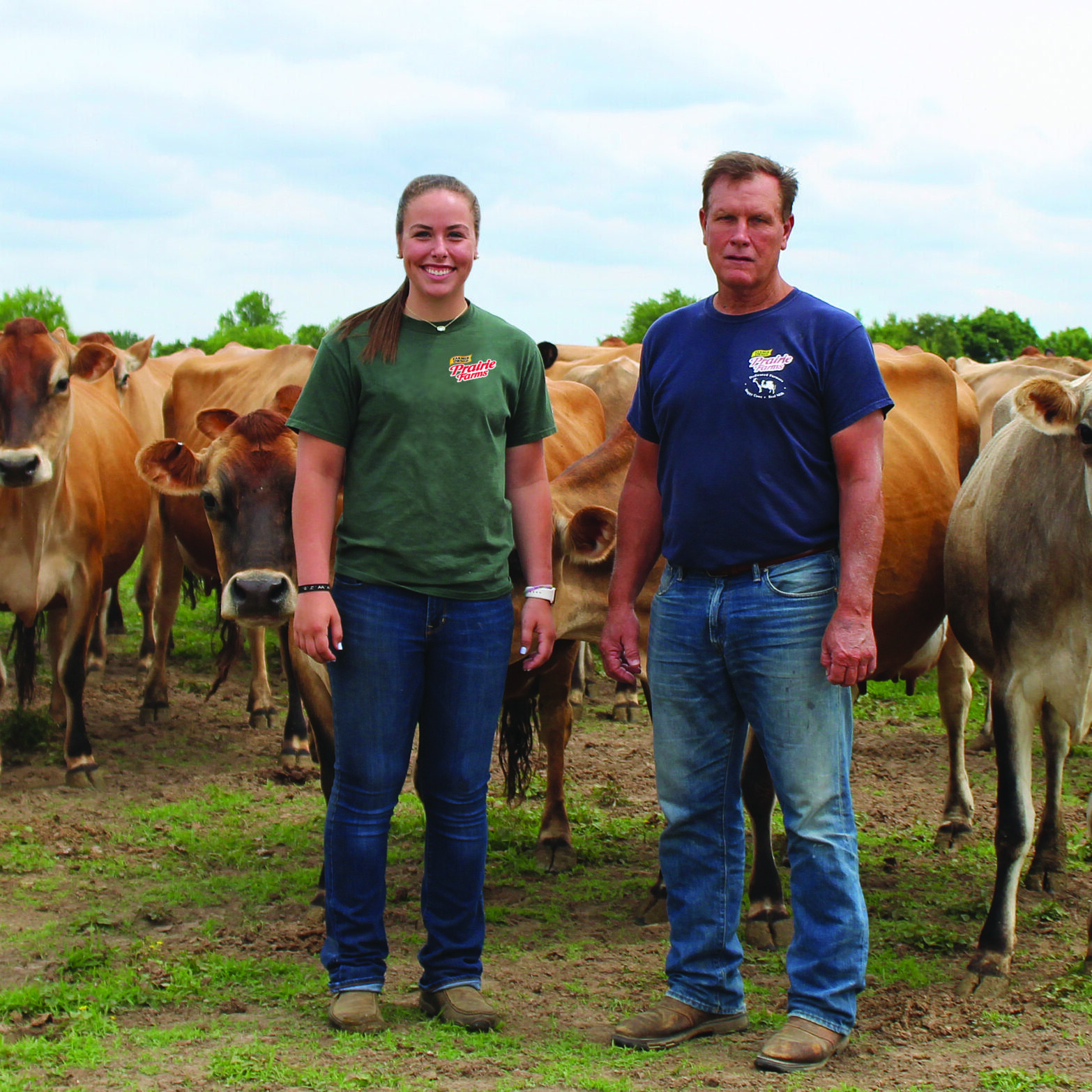 Our Farm to Table Values
From our farm families to the team members who operate our manufacturing facilities and deliver our products, we all have one thing in common....
A Passion for Doing our Part to Help Feed American Families.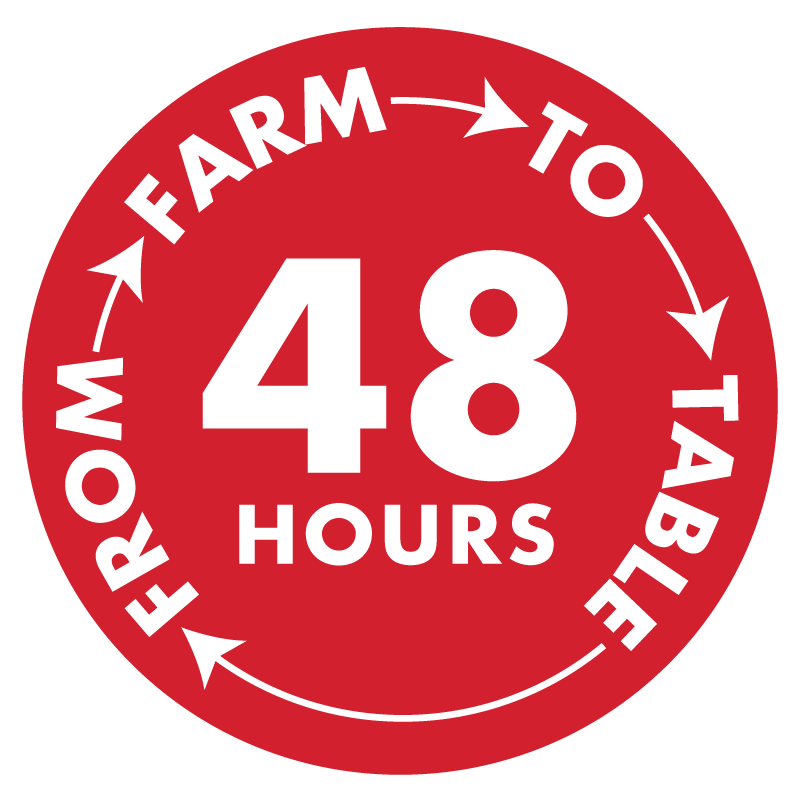 Holstein
Where do they come from? The Holstein breed originated in Europe 2,000 years ago in what is now the Netherlands.
Color: Black and white or red and white spotted.
Weight: Mature females weigh around 1,500lbs.
Characteristics: Holsteins have the highest milk production of any dairy cow breeds in the world. They are adaptable to a variety of environmental conditions.
Jersey
Where do they come from? Research suggests this breed likely originated from Jersey in the British Channel Islands.
Color: Light brown, often with white patches, and a black nose bordered by a white muzzle.
Weight: Mature females weigh between 880-1,100 lbs.
Characteristics: Compared to "average" milk, Jersey milk naturally contains a higher amout of butterfat, protein, and calcium.
Guernsey
Where do they come from? Guernseys originated on the Island of Guernsey in the English Channel, just off the coast of France.
Color: Reddish brown with white patches.
Weight: Mature females weigh 990-1,100 lbs.
Characteristics: Guernsey cows are very efficient. Compared to other cows, they produce high quality milk while eating up to 30% less feed per pound of milk procured.
Brown Swiss
Where do they come from? Believed to be the oldest of all dairy breeds, they originated in Northeastern Switzerland.
Color: Light to dark brown with a creamy white muzzle, dark nose and dark blue eyes.
Weight: Mature females weigh between 1,400-1,600 lbs.
Characteristics: Brown Swiss milk has the closest fat-to-protein ratio of any dairy breed, which is ideal for making cheese.
Sourcing Food Locally Is Good For All of Us
When you make locally produced products a staple of your grocery cart, you're making a choice to reduce waste and energy. The fewer the steps between farm to table, the less impact on our natural resources.
Environmental Stewardship
Dairy farmers explore new ways to reduce methane, and recapturing it to create regenerative fertilizers.
The little red barn has grown up to be an efficient, comfortable home for dairy cows.
Thank You
We know that shoppers like you are looking for delicious, satisfying and unique foods that are sourced and produced locally. Prairie Farms is committed to providing the highest quality dairy products and safest milk in the World. Thank you for choosing 100% Real dairy from our family-owned farms.